At the recent seminar on the cycling successes that has been achieved by the local community group, ED's Cycle Co-op, Struan Stevenson MEP offered to host a delegation of Bishopbriggs cyclists to the European Parliament in Brussels.
Struan Stevenson MEP said "I was truly impressed with the dedication, enthusiasm and impact that this local community group, lead by Bishopbriggs families, has achieved in getting European levels of cycling at St. Matthew's Primary School, and more generally in Bishopbriggs. It goes to show what can be achieved with effective use of limited resources focused directly in the community."
East Dunbartonshire Provost Eric Gotts, said, "I was so pleased to be able to attend last week's cycling seminar. The first time I met Mark I was really impressed by his enthusiastic promotion of cycling among families. I was, therefore, not surprised that the large audience at the cycling seminar reacted so positively to the achievements of the cycling co-op in Bishopbriggs. I sincerely wish Mark and his team every success in the future as they strive to promote family interest in cycling elsewhere in East Dunbartonshire and beyond."
Mark Kiehlmann, co-ordinator of ED's Cycle Co-op said, "We were overwhelmed by the level of interest in our seminar at the Bishopbriggs Community Church last Friday. There were members from three different parliaments, local councillors, professional travel planners, education experts, health researchers, head teachers, local parents, as well as cycling organisations. It was wonderful to see children as young as 3 and Bishopbriggs own super-gran, Kathleen Lytton, 85, who still rides her trike, all supporting our efforts".
Photo (Left to right back row): Councillor Vaughn Moody, MEP Struan Stevenson, Provost Eric Gotts, David Whitton MSP
Photo (Left to right front row): Councillor Anne McNair, Councillor Gillian Renwick, Jo Swinson MP, Pauline McNeill MSP, Patrick Harvey MSP, Councillor Una Walker, Deputy Provost Anne Jarvis, Mark Kiehlmann.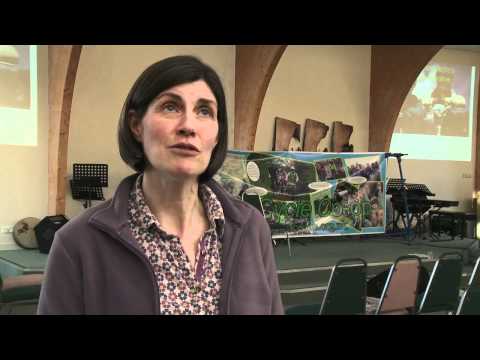 Bishopbriggs now has more Cycle Friendly Schools than any other town in Scotland, with levels of cycling to primary schools three times the Scottish national average (Sep. '11). ED's Cycle Co-op has developed out of funding from the Scottish Government Climate Challenge Fund and Cycling Scotland in order to promote low carbon and healthier transport.